Trade Hub is a user friendly creative theme for all kind of business, accounting, financial, coaching, law office, business planning, corporate websites and blogging. It's simple to configure the homepage setting using Theme Customizer. The theme comes with flexible features, clean coding, documentation and dedicated support team to solve your confusion while building professional website.
How to Upload Demo content
1, Theme Installation
After downloaded free theme/ purchased, you can choose either of the approaches given below to install your theme.
1.1.

Approach I : From your admin dashboard
Log in to the WordPress Administration Panels.
Select the Appearance panel, then Themes.
Select Add New.
Then select Upload Theme.
Click Browse Locate trade-hub.zip  Theme in your computer.
Select trade-hub.zip and click Install Now.

1.2.

Approach II : Upload and install theme through FTP client

You can use FTP client like FileZilla to connect your web server.

Unzip trade-hub.zip to your Desktop.
Using an FTP client to access your host web server, go to /wp-content/themes/ and upload your new copy of Clean-biz Theme.
Now, log into the WordPress Dashboard with your login details.
Select the Appearance panel, then Themes.
You will see the theme in the list.
Then click Activate button.
2. Manage Site Title, Tagline and Site Icon
3. Home Page Setup?
Please create and publish new page for example Home page,
Please navigate to "Customize => Static Front Page" in Appearance. Then set a page (e.g. Front Page) as "Front page" and another page (e.g. Blog) as "Posts page" and save your settings.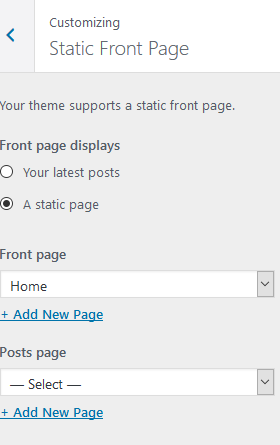 How to Hide Front Page Content in Home Page?
Form Customize > Theme Option > Layout Options
Uncheck Layout options in Front Page

iii. Features
Customizing ▸ Main-HomePage ▸

 Our-Feature

Our-Feature
For Icon check here
for example
fa fa-desktop
fa-file-text-o
fa fa-child
fa fa-star-o
fa fa-comments
In free version, only three page selection option are available in feature option.
in Pro version, six feature options are available
ix. Call-To-Action Section
8. Layout Options
Layout Options
Breadcrumb Options
Back to Top Options
Footer Options
Customizing ▸ Theme Options 

▸ 

Layout Options
. : If you disable this the static page will be disappera form the home page and other section from customizer will reamin as it is

Default Layout
Three default page layout are available
i. Content-primary-sidebar
ii.Primary sidebar-content
iii.No sidebar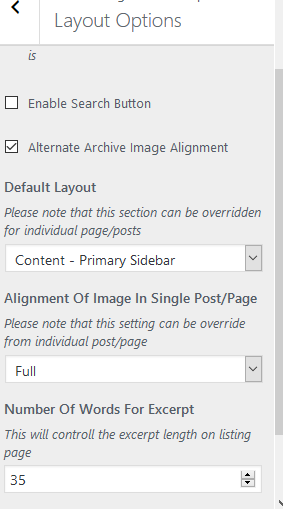 Footer text: Theme: Trade Hub by eVisionThemes
This text can be hide by disable and available in pro version only.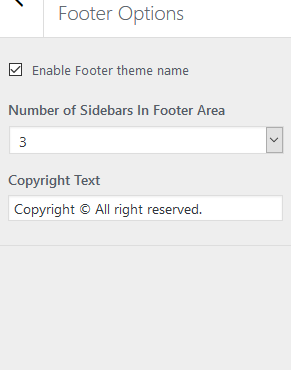 Number of footer widget available is 3.
Also you can disable footer sidebar area