1. Introduction
OnlineMag, A free magazine theme that has a beautiful design to help you start a professional looking news website. It can be used for any magazine niche such as tech, politics, sports, games, fashion, etc. With the available features you can optimize your website through clicks only and won't have to write any code. The theme has responsive design, so, the contents of your website will look elegant on any device.
Download Demo Content from here
For demo: http://demo.evisionthemes.com/onlinemag

2.1.From your admin dashboard
Log in to the WordPress Administration Panels.
Go to Appearance > Themes.
Select 'Add New'.
Then select 'Upload Theme'.
Click 'Browse' and Locate 'onlinemag.zip' Theme in your computer.
Select 'onlinemag.zip' and click 'Install Now'.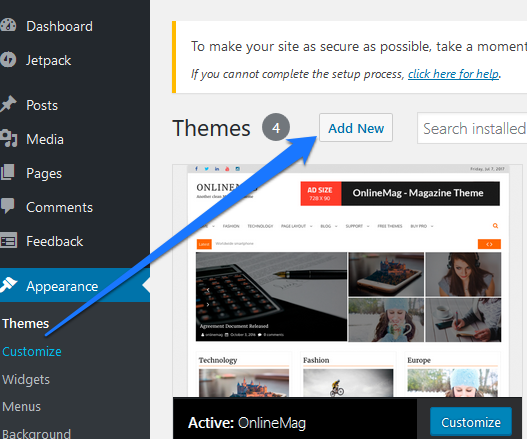 2.2.Using FTP
You can use FTP client like FileZilla to connect your web server.
Unzip onlinemag.zip to your Desktop.
Using an FTP client to access your host web server, go to wp-content > themes and upload your new copy of your onlinemag theme.
Now, log into the WordPress Dashboard with your login details.
Select the Appearance panel, then Themes.
You will see the theme in the list.
Then click Activate button.
The theme will now be activated.
3. Setting Magazine Homepage
– Adding a magazine homepage.
Create a new page by going to Pages > Add New in the WordPress Dashboard
Give the page a name whatever you want. eg : Home Page Then, go to Customize > Static Front Page > A static page
or
After created home page
 Go to Settings > Reading in the WordPress Dashboard and select the "A Static Page" option which is under the heading "Front Page Displays".
4. Header Section Settings
5. Setting Logo, Site Title, Tagline
8. Widgets
Widgets
There are 7  widgets bundled with the Premium Version
1.OnlineMag Instagram Full Width Widget
2.OnlineMag Widget Grid Style 1
3.OnlineMag Widget Grid Style 2
4.OnlinrMag Widget Full Col
5.OnlineMag Widget Listing col
6.OnlineMag Widget Tab Sidebar
7. Footer Full widget
In Free Version only Four widgets are available
1. OnlineMag Widget Grid Style 1
2. OnlinrMag Widget Full Col
3.OnlineMag Widget Listing col
4. OnlineMag Widget Tab Sidebar
9.Custom Main Menu
Custom Main Menu
Go to Appearance > Menus in the WordPress Dashboard.
In the edit menus tab click on the "create new menu" link.
Give a Menu Name and click button "create menu".  For example if you are planing to use this as main menu type "Main Menu"
Then you can choose/create the links from the tabs (Pages/Posts/Custom Links/Categories) which are in the left hand side of the screen.
After Creating the menu select the Theme Location of the menu.(It's under the Menu Settings which is in the bottom of the page. ) Select where you want to show this menu. Theme has three menu locations. ( Main Menu, Top Menu, Social Media Menu )
Finally Click Save.Social Media Menu.
It is very easy to add a social media menu to your site top bar with OnlineMag theme. Adding a social media menu is same as adding other menus as described above. Use custom links to add social media links ( eg: https://facebook.com/evisionthemes ) and select the menu location as "Social Menu"