Introduction
eVision Corporate Pro is a strong and attractive business theme. It has been introduced after a long research and analysis. It is suitable for any type of business organizations exhibiting the features such as services, portfolios,testimonials, skill, team, blog, contact etc with enable/disable option. Its also supports for one page site. The free version of themes only allow to add limited number of those section but eVision Corporate Pro theme allow you to add unlimited number of sections, posts, reorder theme and customize theme efficiently. eVision Corporate Pro comes with the bundle plugin eVisionThemes Dashboard which is specially created for eVision Corporate Pro theme, which allow you to add any section form the widget. eVision Corporate Pro is widgeted theme, with simple click, drag and drop you can make your site very unique and beautiful. Its competencies include responsive, bootstrap, HTML5, CSS3, retina ready, font awesome, google font, cross-browser compatibility, color control, layout control, logo upload, translation-ready, custom CSS field, etc. This documentation consists of several parts and shows you the entire process of setting up WordPress and eVision Corporate Pro  theme from scratch.
What is WordPress CMS?
WordPress is a free and open source blogging tool and a content management system (CMS) based on PHP and MySQL. It enables you to build Websites and powerful on-line applications and requires almost no technical skills or knowledge to manage. Many aspects, including its ease of use and extensibility, have made WordPress the most popular Web site software available. Learn More
Installing WordPress
Installing WordPress is quite easy nowadays.  One click setup is provided by many software like Softaculous. The details process is also described here . If you have any confusion, please feel free to contact us.
Theme Installation
Log in to the WordPress Administration Panels.
Select the Appearance panel, then Themes.
Select Add New.
Then select Upload Theme
Click Browse Locate 'evisioncorporatepro.zip' Theme in your computer.
Select 'evisioncorporatepro.zip' and click Install Now
Installed and activated following plugin that will come in the notice

eVisionThemes Dashboard (Featured Plugin for eVisionCorporatepro Theme)
Activating required sections
 From "Appearance" go to ET Dashboard.
You will find 'eVisionThemes Dashboard' options to enable and disable various options.
 Check all required sections to enable it.  You can enable all of them all partially enable them.
Now finally click 'Save Changes'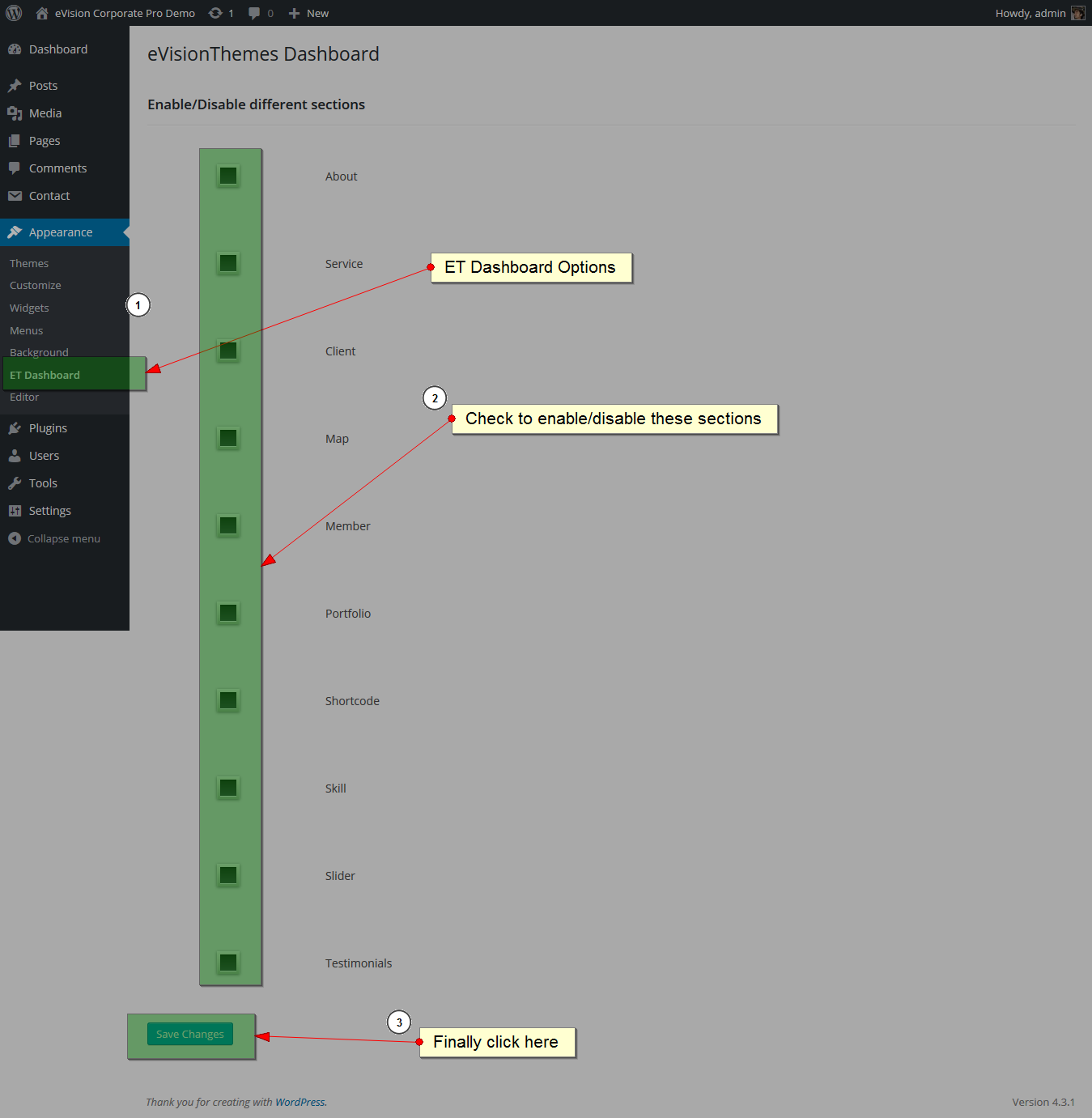 After enabling the sections you will see different sections in the menus at the left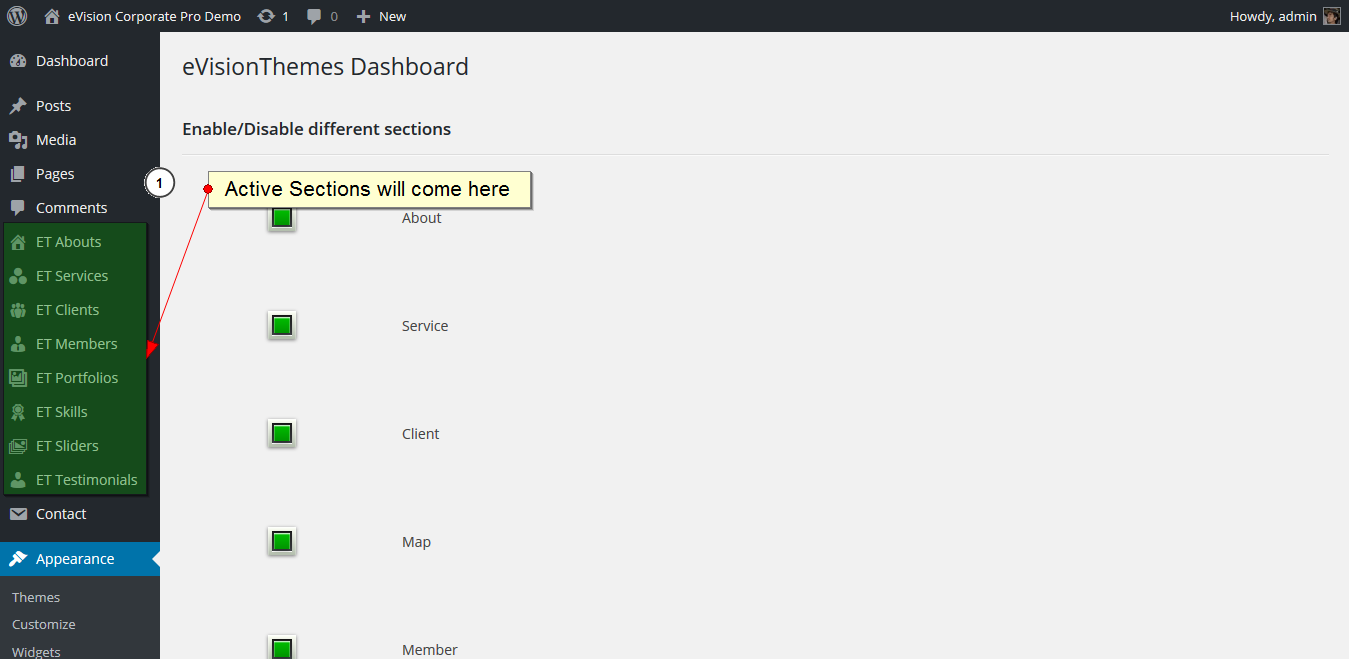 It will also added different widgets in Widget Area From "Appearance" go to Widgets.
Each and every widgets contains very powerful customization fetured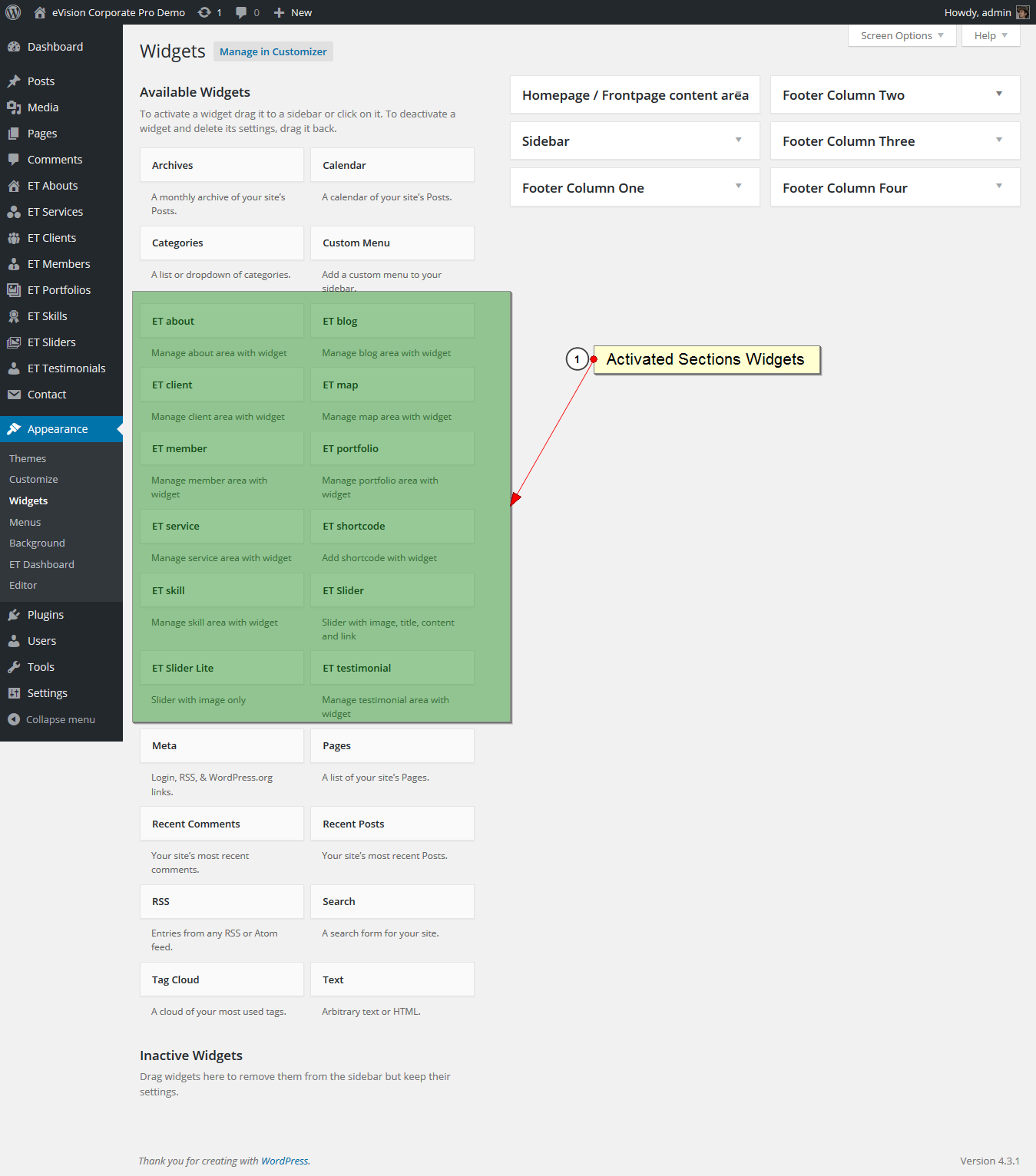 '
Manage site with Theme Options ( Customizer )
An advanced theme options based on customizer give you full control to the content and setting on the theme.
Go to 'Appearance => Customize' 
First we would like to advice to see all tab of the theme options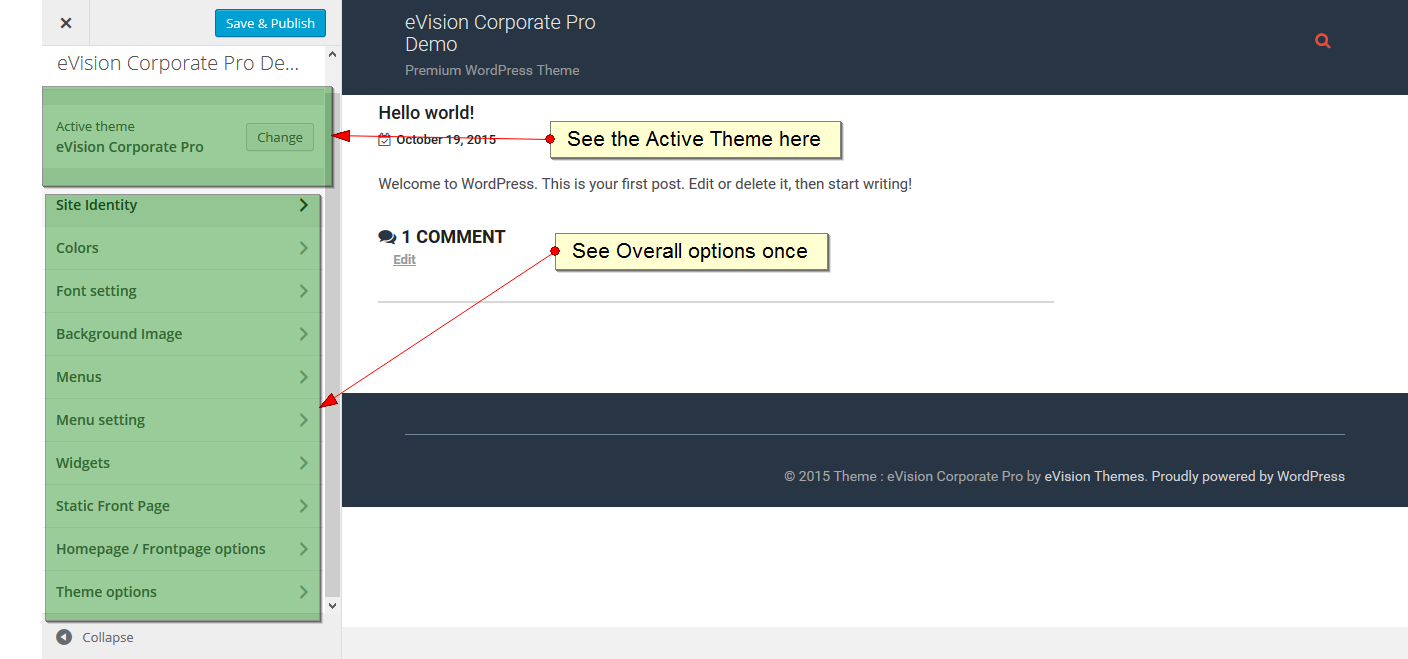 Colors
We have created an advanced color options. Using this color options you can change color of entire site including each and every sections
Font setting
From the font setting you will be able to change Font family and font size of headings ( H1-H6 ), section title and paragraph. 1. From "Customize" section, go to Font setting     . 2. You will find to change option for setting Font family  inside Font family and Font size inside Font size.
Menu Section
Customizing Menus
From "Customize" section, go to Menus
Again go to Menu Locations, you will see three menus there:

Front Page Menu

: For only front page

Inner Pages Menu For all pages except front pages

Social Menu For Social Icons on footer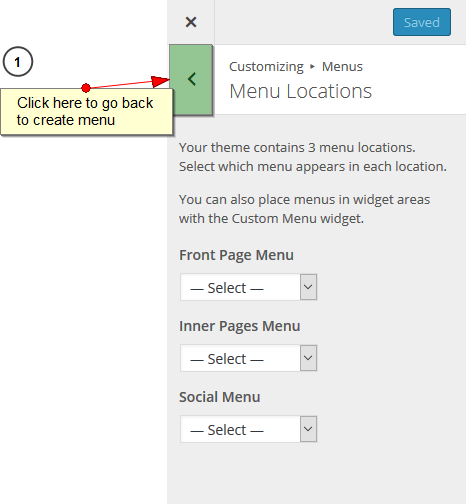 Setting up Front Page Menu
Click Back to the top as shown in above figure
You will see Add a Menu button, Click it to add Menu
Enter Name and Create Menu
From Menu Location Check on Front Page Menu ( Imp: Don't forget it )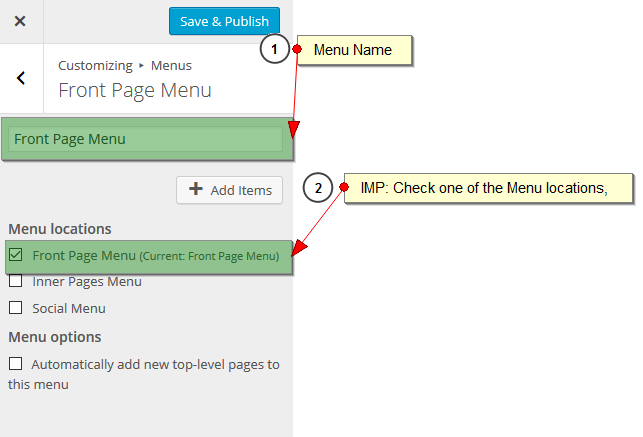 Now adding Items on menus:
Click Add Items button, A New Section will expand
You can add any available items on menu
Lets start from Custom Links, Click it, It will expand and show URL and Link Text
You can add any custom links and Link text here
Front Page Menu is specially created for One Page Menu.
Every ET widget are compatible to one page menu you can just add widget and its id
Don't forget to click 'Save & Publish'.
Setting up Inner Page Menu
Setting up Inner Page Menu is same like Setting up Front Page Menu. I will appear all pages except front page.
Setting up Socail Menu
Similarly you can setup Social Menu.
- Supported social menus
    - facebook.com
    - twitter.com
    - linkedin.com
    - instagram.com
    - youtube.com
    - pinterest.com
    - plus.google.com
    - flickr.com
    - tumblr.com
Static Front Page
From "Customize" section, go to  Static Front Page
Select A static page  and select page for

Front page

and

Posts page
Homepage / Frontpage options
From "Customize" section, go to  Homepage / Frontpage options
Now click Home page/Front page display options
You will find 3 options

From widget ( Recommended and only available in pro theme )
From homepage/frontpage options (Like free version of theme )
From page ( Whatever in the page)

You can customize your awesome homepage/frontpage by using sidebar-widget. If you select from widget please go to widget > Homepage / Frontpage content area

You can customize your awesome homepage/frontpage by like free version, just go one setp back to setup. ( Its available in free theme ), see more here
From page will display only page content ( other options will not work)
Theme options
From "Customize" section, go to  Theme options
Various Theme options  are available here

Intro loader options
Layout options
Footer options
Custom CSS options
Back to top options

You can setup extra options options from here